The first UMIN System (1989) - N1 protocol-based network for general-use computers
UMIN was established in 1989 as a network organization for national university hospitals [1]. The UMIN Steering Committee was organized and, under the committee, three subcommittees - the Hospital Management Subcommittee, Drug Information Subcommittee, and Nursing Information Subcommittee - were set up. The purposes of UMIN were described as follows:
To provide up-to-date information to healthcare professionals
To promote communications between healthcare professionals
To support collaborative work among university hospitals
To support collaborative medical research
To standardize medical data and collect hospital statistics
A general-use computer was introduced to the UMIN Center located at the University of Tokyo Hospital in 1989, and then it was connected to general-use computers in eight national university hospitals. After that, it was connected to several additional university hospitals every year. The first UMIN system was, therefore, available only from the connected national university hospitals. The communication protocol used was N1 protocol, which was developed in Japan and was the only solution at the time to connect together general-use computers of the five major computer vendors in Japan, although it was poor in function, supporting only line-mode, character-based terminals (Table).
The UMIN Steering Committee and three subcommittees discussed many times how to use UMIN effectively. They examined what kind of information systems and databases were necessary and useful for national university hospitals. At the time, almost all end users knew nothing about, or could not even imagine, continuously connected computer networks. Thus, the UMIN Center staff prepared promotional brochures and periodical newsletters, and delivered them to all the national university hospitals. When a new national university hospital was connected to UMIN, they went to the hospital, explained UMIN to local information system administrators in detail and, for local end users, held a workshop on how to use UMIN.
In spite of the laborious efforts of the UMIN Center and committees, the number of actual users was limited, less then one-hundredth of that at present (Fig.1). The reason might be that the number of available terminals in each university hospital was limited and that the line-mode, character-based interface was not very easy and comfortable to use.
The second UMIN system (1993) - Full-screen CUI available on the Internet
Replacement of the UMIN computer system was scheduled in 1993. In the early 1990s, the Internet was getting gradually popular in Japan and the N1-based, line mode terminal interface seemed to be getting obsolete. UMIN decided to provide its new services via the Internet and to also offered its N1-based, conventional services in the following four years simultaneously because twenty-three university hospitals were still connected using only N1 protocol. After 1993, additional university hospitals were connected to UMIN using the Internet. Thanks to the UMIN connections, some university hospitals experienced the Internet for the first time. In 1994, the UMIN services were made available to medical professionals other than staff and students of national university hospitals.
The Internet-based UMIN system was developed using a TELNET-based, full screen mode character user interface (CUI). TELET-based, dedicated client software for email, news, and database retrieval systems were developed for easy operations. The client software and Gopher client were linked from the initial menu whose interface was designed in the image of Gopher. However, this user interface was still not always favored among end users because graphical user interface (GUI) was already popular for personal computers then.
With the beginning of the Internet-based services, the number of users increased. The main purpose of most new users was to use Internet-based electronic mail. Several university hospitals did not have email servers yet. In those hospitals, UMIN was regarded as a synonym for email. However, the Internet seemed a double-edged sword for UMIN. In the N1-based system, the constant communication circuits themselves were very important infrastructure. To hold and manage the circuits was considered as the most important privilege and even raison d'etre of UMIN. On the Internet, any organization, or even an individual, can provide information services such as WWW-based ones at very reasonable cost. When UMIN lost its N1-based infrastructure, it would become one of numerous information services available on the Internet. Then, some people began to have doubts about the necessity for UMIN.
The third UMIN System (1997) - Web-based GUI available on the Internet
Around 1995, WWW had taken the place of Gopher and become the most popular service on the Internet. UMIN started its WWW service in 1995 (Fig.2). Using WWW technology, user-friendly GUI was made easily available, and the software development cost became much more reasonable than that necessary for a TELNET-based interface. Thus, the third UMIN system was developed based completely on WWW technology. Thanks to the increased government budget at the time and the improved efficiency in software development, UMIN could increase the number of its information services and databases. Thus, the number of registered users continued to increase. Many users gradually came to realize the significance and value of UMIN in providing reliable information services and periodically updated medical contents.
As the Internet became popular, many venture companies were established to make big money out of Internet-based new businesses around the world. Medicine was one of their important target fields. In Japan and other countries, many network companies were established for Internet-based, medical information services. Their typical business strategy seemed to be as follows:
Spend a lot of money to collect medically-related digital content.
Using this content as a feature, solicit as many users as possible at the earliest possible time.
Then earn money.
It was assumed that users would not easily change Internet seller sites once they registered their accounts, and that companies that could solicit many users earlier would succeed.
As UMIN was a government-funded organization, it could not procure stock market money, or get paid for advertisements insertions. Moreover, it was difficult for UMIN even to get paid for its services because of the complex bureaucratic procedures of Japanese national universities. Some expected that private network companies would control the communications of medical professionals, and that the UMIN would be unnecessary in the future.
The strategy of UMIN then was essentially different from those of network companies. It did not spend most of its limited budget on medical content itself, but on mechanisms to accumulate it on the UMIN servers. At first, UMIN started a member-only web hosting service, named OASIS. In addition to the OASIS access member management system itself, UMIN developed and provided Web-based application software that can be commonly used by many academic societies, such as a member list retrieval system, document retrieval system, member mailing list management system, etc. UMIN proposed to medical academic societies to register all their members to UMIN and to offer member-only homepages for their own members, using OASIS. So far, more than thirty academic societies have registered their members to UMIN, including several large academic societies such as the Japanese Society of Gastroenterology, with about 28,000 members, and the Japanese Circulation Society, with about 20,000 members. The reason they decided to use OASIS might be that they had not yet started their own member-only homepages at the time of UMIN's proposal, and that they assumed UMIN to be trustworthy and reliable because it is a government-funded, public organization. A registered UMIN user can access, using only one UMIN ID, all member-only homepages of the academic societies that he or she belongs to. This system is very much favored among medical researchers.
Secondly, UMIN developed an online abstract entry system for academic meetings. This system is sophisticated and flexible enough to accommodate various requests from more than two hundred academic meetings. It is now the de facto standard for on-line abstract entry by medical academic societies in Japan. All the collected bibliographic information and abstracts are retrievable from a WWW-based interface.
Thirdly, UMIN developed an on-line data entry system for clinical trials and epidemiological research [4]. Fourteen research groups have used this system and have collected information on more than twenty thousands patients. Almost all Internet-based clinical trials and epidemiological research in Japan are performed using this system.
With all the three systems mentioned above, UMIN started its services first in Japan and succeeded in capturing the overwhelming share early. These services contributed greatly to increasing registered users. For examples, if a certain academic society uses the abstract entry system of UMIN and wants to provide collected abstracts only to its members, it is necessary to register all its members to UMIN. It is usual that, even if IDs and passwords for a member-only homepage are delivered, they are lost without being used. As for UMIN, academic societies have encouraged their member to use UMIN IDs and password repeatedly, using paper-based documents etc. Academic societies are usually trusted by their members, and their encouragement enhances actual usage efficiently.
The contents which UMIN prepares has been limited to the simple collection of facts, which requires only unskilled labor. For examples, academic society and meeting information, research fund information, recruitment information, etc. As UMIN is a government-funded, public organization, most information sources are willing to offer it necessary data.
Table. User interfaces of UMIN1, UMIN2, and UMIN3 systems
| System | Protocol | User interface |
| --- | --- | --- |
| UMIN1 (1989) | N1 protocol | Line mode terminal |
| UMIN2 (1993) | TCP/IP protocol | Full screen terminal (TELNET) |
| UMIN3 (1996) | TCP/IP protocol | Graphical user interface (WWW) |
Fig.1. The number of registered UMIN users(Last updated:7/2014)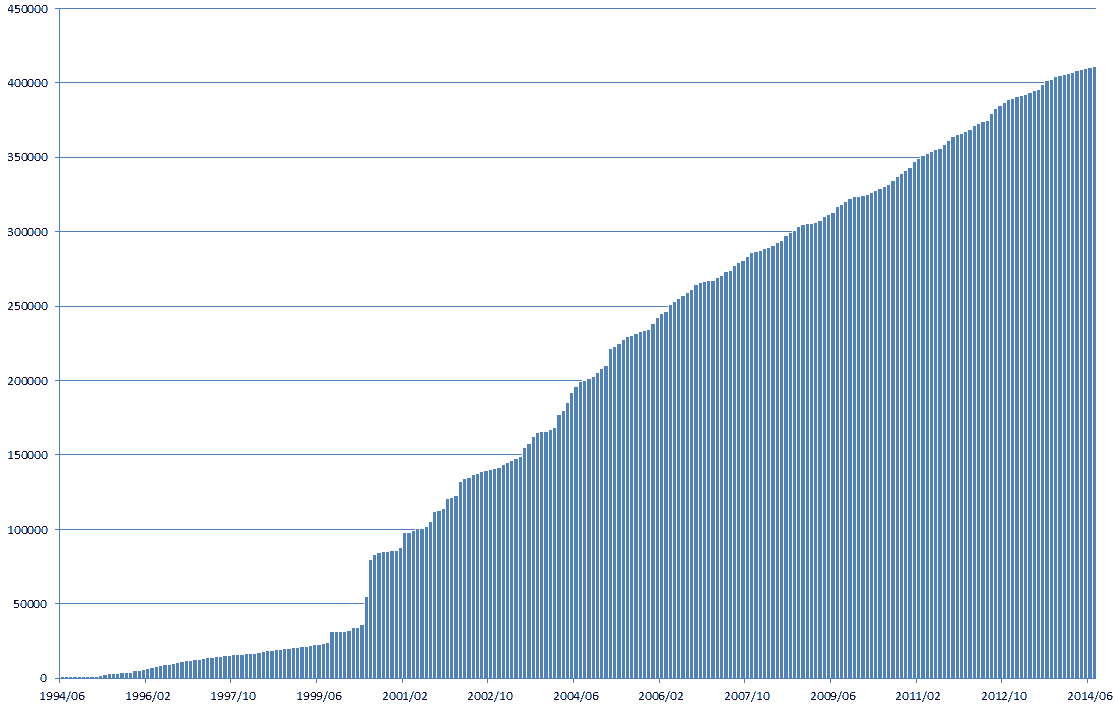 Fig.2. The number of web page views per month(Last updated:7/2014)